Thanks to the growth of online shopping, there was a record level of logistics investment in Europe in 2020.
According to the research data analyzed and published by Comprar Acciones, the figure shot up to €38.64 billion ($46.5 billion) by the end of the year. This is the highest figure on record since 2013. The growth was spurred by a record take-up of warehouses in the region, with the UK taking the lead. As a result, warehouse vacancy rates in Europe fell to a record low of 5%.
High demand for warehouses was driven by supply chain challenges around the globe that led to a shortage of shipping containers, long wait times and high-cost deliveries. In efforts to find a way to fulfill orders fast, many businesses opted to find warehouses in this key market and stock them in advance.
The leasing activity in Europe grew by 69% in 2020 on agreements for a cumulative 11 million square feet. Among the companies that signed leases were Amazon, XPO Logistics, DHL and SF Express from China, which signed its first European lease.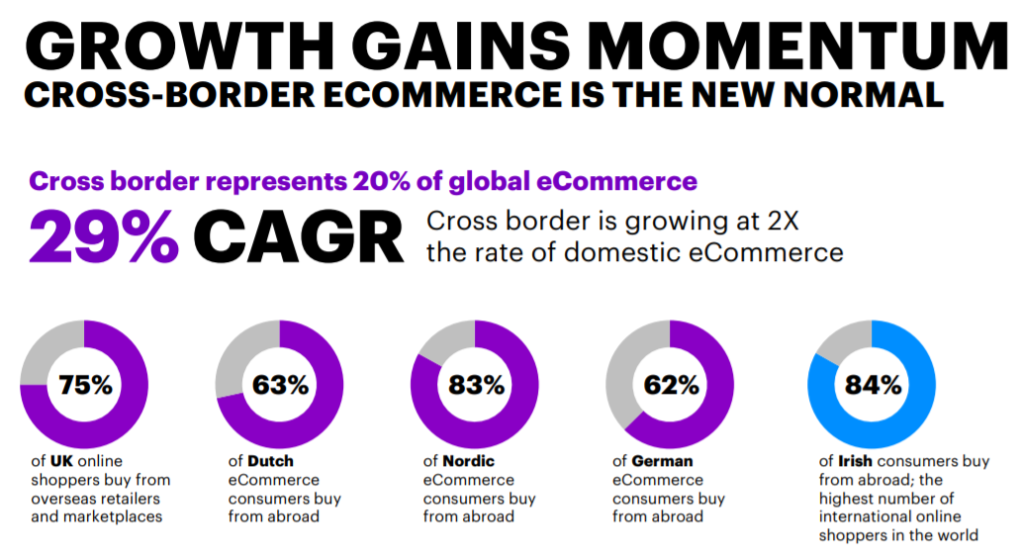 Taking note of this growing trend, top investment firms are positioning themselves to make the most of the opportunity.
In November 2020, GIC, Singapore's sovereign wealth fund and Melcombe entered into a joint venture to acquire and develop logistics assets in Europe. Their focus is on the establishment of last-mile distribution centers in Germany, UK, France, Netherlands and Spain. Prior to that, GIC had acquired 33 retail logistics assets in Germany and before that, 28 assets across Europe.
Alibaba International eCommerce Revenue Shot up by 53% to $577 Million in Q4 2020
Among the key players spurring the trend were Amazon and Alibaba as well as third-party logistic service providers.
Alibaba handles its cross-border eCommerce transactions primarily via its Cainiao logistics arm and AliExpress. During the final three months of 2020, Cainiao reported a 51% uptick in revenue to $1.74 billion driven by rapidly growing cross-border eCommerce. During that time, Alibaba's revenue from international eCommerce wholesale increased by 53% reaching $577 million.
On the other hand, Amazon also reported blockbuster results for its fourth quarter of 2020, driven by a record-breaking holiday season. During the period, it delivered over 1 billion products to its worldwide consumer base.
Its international segment revenue for the quarter soared by 50% year-over-year (YoY), up from 33% in Q3 2020. Comparatively, its North American segment posted a 40% YoY increase. According to its earnings report, the company had its largest quarter by revenue in history, totaling $125.56 billion. That was the first time its quarterly sales surpassed $100 billion and it marked a 44% YoY jump. The figure surpassed the $119.7 billion forecast by Refinitiv analysts.
Amazon's earnings per share (EPS) nearly doubled expectations, hitting $14.09 against an anticipated $7.23, making a 118% YoY uptick. Net income for the quarter amounted to $7.2 billion, more than double the $3.3 billion reported in Q4 2019. Operating income shot up by 77% to $6.87 billion against an expected $4.47 billion. Full-year net sales for the company increased by 38% YoY to $386.1 billion.
For Q1 2021, Amazon anticipates revenue in the range of $100 billion and $107 billion. It estimates operating income of between $3.0 billion and $6.5 billion for the period.
China's Cross-Border eCommerce Surged by 31% to $262 Billion in 2020
According to a study by eShop World (ESW), close to 70% of global consumers made cross-border eCommerce purchases in 2020. China, which has been a front runner in this market, is expected to continue leading global growth.
In 2020, its cross-border online business rose by 31.1% to 1.69 trillion yuan ($261.5 billion) according to the customs agency. Transactions primarily consisted of exports, which amounted to 1.12 trillion yuan, accounting for 66% of the global total.
While eCommerce exports increased by 40.1% YoY, imports increased by a mere 16.5% to 570 billion yuan. To keep up with the increase, there was a surge of 80% in overseas warehouses during the year, to over 1,800 according to the Commerce Ministry.
A report by Accenture states that the growth will extend into 2021, with China's anticipated share of the cross-border eCommerce market set to rise to 41%.
Based on data from the General Administration of Customs (GAC), 2021 is already off to a great start. During the first week of the year, Hangzhou customs in Zhejiang Province approved 5.79 million trade bills for cross-border online sales valued at 532 million yuan.