The number of social network users as well as their expenditure on apps has been on the increase since the start of the global pandemic.
In Q3 2020, Facebook inched closer to becoming the first social network with 3 billion users. Based on the research data analyzed and published by Comprar Acciones, it took the lead with a total of 2.74 billion monthly active users at the end of September. This figure marked an increase of 12% year-over-year (YoY).
Asia Pacific was the largest market during the period, with 1.17 billion users. Comparatively, Europe had a total of 413 million users and the US & Canada had 255 million. The rest of the world had 906 million monthly active users.
There was also an increase in the number of daily active users (DAU), which grew by 35 million (12%) quarter-over-quarter (QoQ) to a total of 1.82 billion. Asia Pacific had the most significant growth, going from 699 million in Q2 2020 to 727 million in Q3 2020. In fact, it has been the fastest growing region for a while, as it has gradually increased from 561 million in Q3 2018 to the current figure.
On the other hand, Europe maintained the same figure as it has had since Q1 2020, which is 305 million DAU. However, US & Canada saw a modest decline, going from 198 million DAU in Q2 2020 to 196 million DAU in Q3 2020.
The US and Canada have had the slowest growth, considering that in Q3 2018, the number of daily active users in the region was 185 million.
Facebook Family User Base Grows to 3.21 Billion in Q3 2020
Facebook was the first social media platform to surpass the 1 billion mark in the number of active users. It also owns four of the most popular social media apps which include WhatsApp, Messenger and Instagram as well as Facebook core.
Across its family of apps, Facebook posted a total of 3.21 billion users during Q3 2020, up from 3.1 billion in Q2 2020.
According to a We Are Social report, WhatsApp was the most popular mobile messenger app as of October 2020, with 2 billion monthly users globally. Facebook Messenger came in a distant second with 1.3 billion users, while Weixin/WeChat was third with 1.206 billion.
Other apps beyond the top three followed at a significant distance. QQ was fourth with 648 million, SnapChat fifth with 433 million and Telegram took the sixth spot with 400 million.
On the list of most popular social networks globally though, Facebook took the lead with its 2.7 billion user base. YouTube came in second with 2 billion, same as WhatsApp, which ranked third. Facebook Messenger was fourth.
In total, the top four most popular social networks boasted a cumulative 8 billion active users. This was higher than that of the next 13 networks combined, which totaled 7.8 billion according to Statista.
YouTube Grows 59% in Revenue, Second Highest Grossing Mobile App in Q3 2020
YouTube is an exception in the top four social media networks as it does not belong to the Facebook family. According to its parent company Alphabet's Q3 2020 earnings call, it was revealed that its Premium and Music services had more than 30 million paying subscribers in Q3 2020.
The number had doubled in less than 18 months as it only had 15 million paying subscribers in May 2019. Moreover, YouTube TV subscribers reached 3 million during the quarter, up from 2 million in February 2020.
According to Sensor Tower, YouTube was the second highest grossing non-gaming mobile app globally in Q3 2020 across both Google Play Store and Apple App Store. Its revenue for the period grew by a remarkable 59% YoY.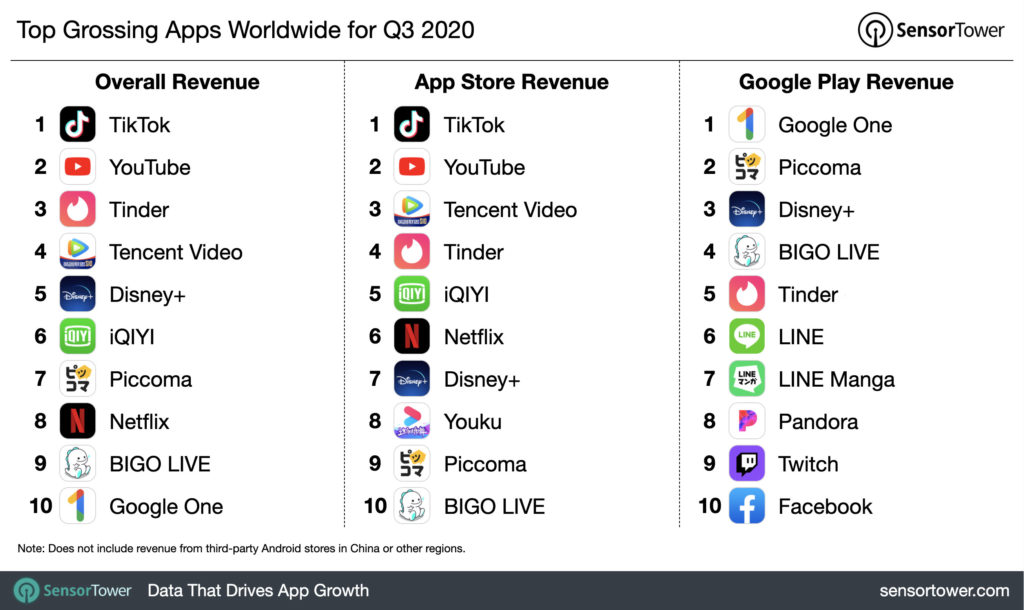 TikTok, which was the seventh most popular social media app globally, was the highest grossing mobile app across the two stores.
None of the other top-ranking social media platforms by active users made it to the top 10 highest grossing apps across the two app stores. However, on Google Play Store, Facebook took the tenth spot.
In the ranking of the top mobile app by downloads during Q3 2020, TikTok once again took the lead across the two stores. It had an increase of 8% YoY as it recovered the top position from video conferencing app Zoom which led in Q2 2020.
Facebook was second in spite of a 2% YoY decline, while WhatsApp took the fourth spot and Instagram got the fifth spot.
Facebook Messenger took the eighth spot, Telegram was ninth and Snapchat was tenth. YouTube made an appearance on the App Store as the third app by the number of downloads.