Big tech companies Google, Youtube and Facebook reported considerable growth in ad revenue. According to their earnings reports, the three giants raked in a cumulative $63.5 billion in the third quarter of 2020.
Based on the research data analyzed and published by Comprar Acciones, for the three-month period, Google's total revenue amounted to $46.2 billion, while its ad revenue was a whopping $37.09 billion. During a similar period in 2019, its ad revenue was $33.79 billion.
YouTube ad revenue was $5.04 billion, up from $3.80 billion in Q3 2019, representing an increase of 32% year-over-year (YoY). According to Statista data, YouTube ad revenue had been on an uptrend prior to the pandemic, slumping significantly in Q1 and Q2. From a high of $4.72 billion in Q4 2019, it fell to $4.04 billion in Q1 2020 and further to $3.81 billion in Q2 2020.
In its third quarter, Facebook generated $21.5 billion in revenue, growing by 22% YoY. From this total, ad spending accounted for almost 99%, totaling $21.2 billion. Comparatively, ad revenue in Q3 2019 was $17.4 billion.
Over 90% of ad spending came from its mobile user engagement. The most interesting bit is that there was an increase in ad spending in spite of a July ad boycott campaign.
Facebook's earnings report revealed that the company had 10 million active advertisers by the end of the quarter. That was an increase of 1 million from the Q2 2020 figure.
Facebook Ad Reach Grows by 135% in North America
According to a Social Bakers report, the ad reach of Facebook globally grew by 12.3% YoY in Q3 2020. North America took the lead globally with an increase of 134.9% YoY. Latin America was second with 49.7% while Western Europe had 31.3% and Central America got 31.2%.
Facebook's report highlighted that in Q4 2020, it anticipated higher growth in the ad rate coinciding with rising demand during the holiday season. Pointing to the crucial role of online commerce in its performance, the report also mentioned that a return to normalcy could negatively impact ad revenue in 2021.
On the other hand, thanks to the shift to online shopping, Amazon has been one of the greatest beneficiaries of the stay-at-home trend. Its gross revenue totaled $96.1 billion, an increase of 37% YoY.  From this amount, advertising revenue, the main component of its "Other" segment, was approximately $5.4 billion. Compared to Q3 2019, it had increased by 51% YoY.
To put the ad revenues of the three tech giants in perspective, it is worth noting that ad-driven companies Twitter, Snap and Pinterest also posted gains in Q3. However, their collective ad revenues fell short of $2 billion.
Snap had an increase of 52% YoY, reaching $672 million, while Twitter reported a 15% increase to $808 million. Pinterest had the highest growth of the three, soaring by 58% to $442 million.
The current situation reflects the findings of a 2019 IAB report. According to the report, the top 10 companies on the internet had control over approximately 77% of all digital revenue globally.
Global Ad Expenditure to Drop by 9% in 2020 as Digital Ad Spend Increases by 6%
According to Social Bakers, global ad spend surged significantly during Q3 2020. Compared to Q2 2020, there was an increase of 56.4%.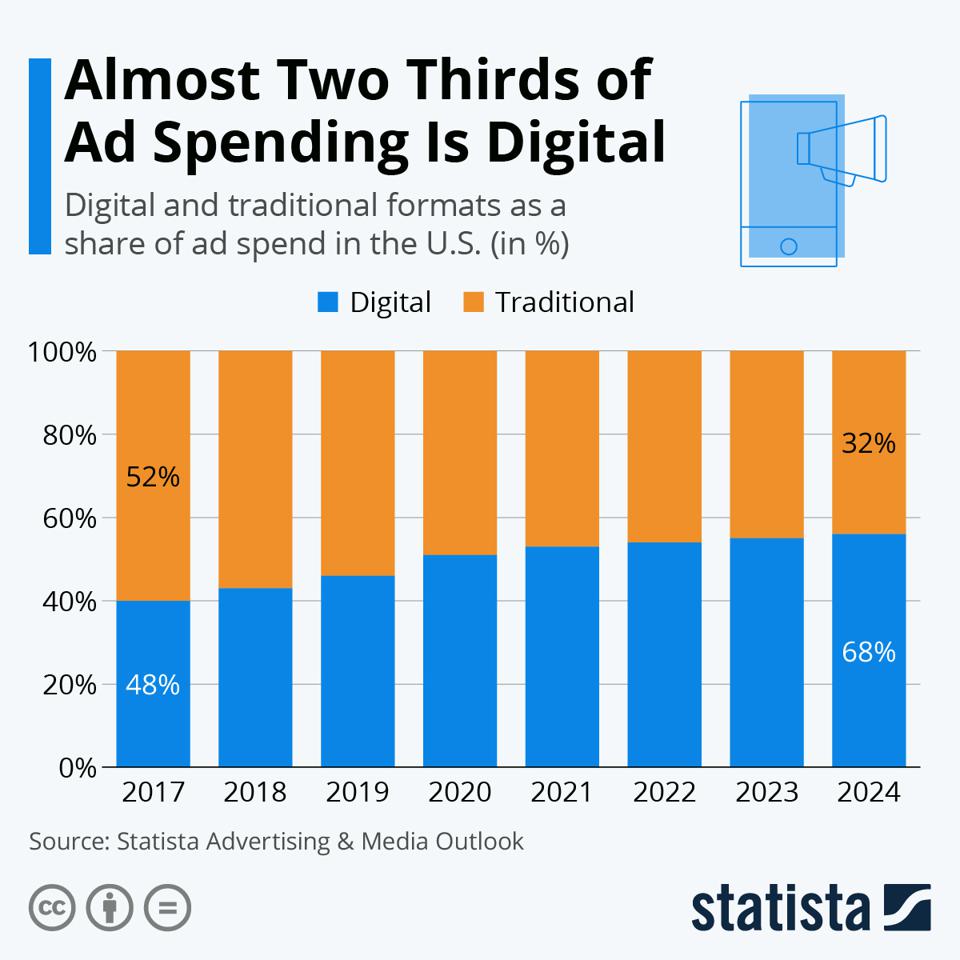 At the end of Q3 2020, the worldwide ad spend average figure was almost double of what it had been at the end of March. North America was the leading region globally, with an increase of 61.7% during the quarter.
As a result of the ravages of the global pandemic, a Zenith report predicted a 9% decline in global ad expenditure for all of 2020. The report pointed to a 7% decline in the US by the end of the year.
It forecast a 5.8% gain in 2021, to a great extent, due to the Tokyo Summer Olympics which will take place in the year. Based on the report, digital advertising would contribute 51% of global ad spend in 2020.
According to IAB, digital ad spending in 2020 will actually increase by 6% YoY despite the expected decline in the broader ad market. For traditional media advertising, the report projected a 30% slump in 2020.
Paid search will see the highest growth, at 26%, while social media would grow by 25%. Digital video, on the other hand, will grow by 18% as digital display surges by 15%. IAB projected a slight slump in 2021, with digital ad spend growing by 5.3% compared to 2020.
For the US market, overall ad spend in 2020 is expected to decline by 8% YoY.