Following a blockbuster H1 2020, Netflix's growth slowed down in Q3 2020. According to the research data analyzed and published by Comprar Acciones, net paid subscriber additions were 2.2 million. The figure fell far short of expectations as FactSet analysts had estimated 3.57 million.
Based on its own forecast, Netflix expected to add 2.5 million paid subscribers during the three-month period. It was a relatively low net add estimate compared to the net adds posted in previous quarters.
In Q1 2020, Netflix added 15.77 million paid subscribers against an expected 7 million. Notably though, the estimate was issued prior to stay-home orders resulting from the global pandemic. At the end of that quarter, it reported having a total of 182.9 million paid streaming customers. Compared to a similar period in 2019, that marked a 22.8% increase. In its shareholder letter though, the company said it expected the growth to slow down after lockdowns got lifted.
But as the pandemic tailwinds carried on into Q2 2020, Netflix added 10.1 million net paid subscribers. Once again, the results surpassed expectations as it had forecast an addition of 7.5 million new paid subscribers. At the end of the period, it had a total of 193 million paid streaming customers globally.
In its Q3 letter to shareholders, Netflix reiterated the fact that it had missed the subscriber forecast due to the record performance in H1 2020. At the end of Q3 2020, the total number of paid memberships reached 195.15 million.
46% of New Netflix Subscriber Come from APAC in Q3 2020
During the first nine months of 2020, Netflix added a total of 28.1 million paid subscribers, compared to 27.8 million for the whole of 2019.
For Q4 2020, it forecast 6.0 million net paid subscriber additions. Comparatively, the number of paid subscribers added during Q4 2019 was 8.8 million.
If the forecast is achieved, the total number of paid net adds for 2020 will be 34 million. And that will set a new record, significantly higher than the existing one of 28.6 million in 2018.
For the first time, subscribers in the Asia Pacific held the biggest share of the growth in paid streaming members during Q3 2020. According to its report, 46% of paid net subscribers added during the period came from APAC.
Though it does not offer services in China, Netflix has previously mentioned that countries like Japan and India were worth targeting. With that in mind, it has created shows that hold appeal to the local audience as well as the global audience.
Good examples include 'The Naked Director,' a Japanese original, and 'Sacred Games,' a Hindi-language drama.
It is noteworthy too that APAC revenue increased by 66% year-over-year (YoY) during the three-month period. Comparatively, global revenue growth was a third of that, at 22.7%.
Revenue for the period was $6.44 billion against an expected $6.38 billion and EPS was $1.74 against an expected $2.14.
Disney+ Subscribers Grow by 60M in 9 Months
According to Sensor Tower's list of top grossing mobile apps worldwide for Q3 2020, Netflix sits in eighth place. This position is based on its overall revenue from both the Apple App Store and Google Play Store. Streaming rival Disney+ sits two spots ahead, in the fifth position.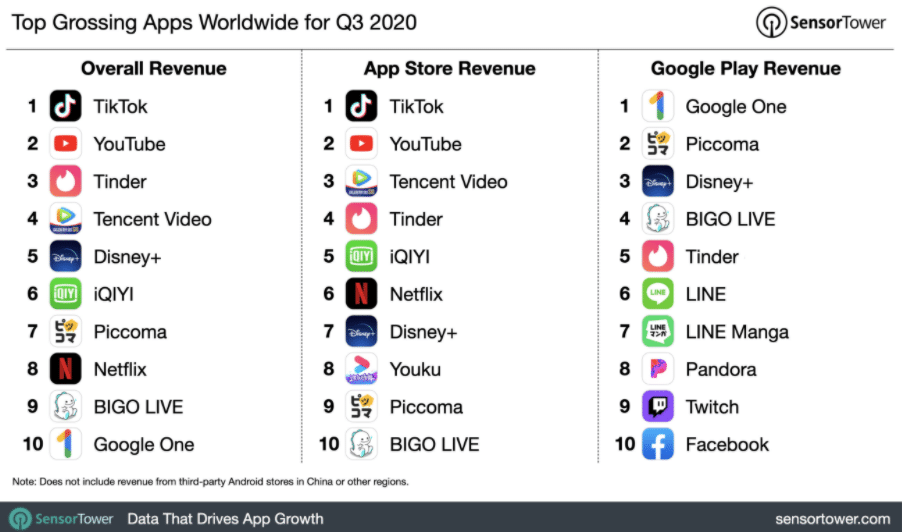 2020 has been a rough year for Disney as a whole due to the shuttering of its amusement parks. It has also had to pause live film production and sports programming on ESPN has been absent. However, its streaming service Disney+ has been a massive success. According to data from Walt Disney, Disney+ added about 30 million subscribers between the end of March and August 2020.
At the end of Disney's first fiscal quarter of 2020, which ended on December 28, 2019, it had 26.5 million subscribers in the US. That was a remarkable increase from 10 million signups when the service launched in November 2019.
The number rose to 33.5 million by the end of Q2 FY20 and in April 2020, it had 50 million subscribers. By August 2020, the number had risen to 60.5 million.
In mid-October, Disney announced its intention to undertake a huge reorganization of its entertainment business to focus on streaming. In response to the announcement, its stock soared by 6%.
Disney stock has shed by 14.74% (year-to-date) YTD as of October 28, 2020 according to Marketwatch but is up by 6.66% over the trailing three-month period. On the other hand, Netflix stock is up by 51.10% YTD and 0.92% over the past three months.
Walt Disney's market capitalization is slightly ahead of Netflix's, at $224.18 billion against $215.7 billion.